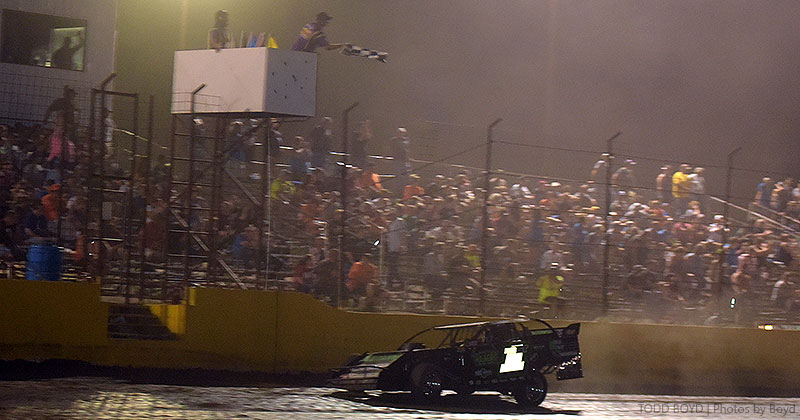 Scott finds sweet spot at Salina, stops Sunflower Showdown sweep by Sanders


SALINA, Kan. (June 9)--After back-to-back runner-up efforts behind back-to-back USMTS victories for Rodney Sanders the previous two nights, Johnny Scott ended the Sunflower State Showdown atop the first-place block on the podium Saturday with a $3,000 triumph at the Salina Speedway.

Starting in the second row behind polesitter Zack VanderBeek, Scott tucked in behind Dereck Ramirez and rode in third for the first 11 laps before taking the spot away and moving in on VanderBeek.

Two laps later, Scott made short work of the leader and was the leader at the completion of lap 14. He never relinquished the top spot over the final 26 orbits of the Salina, Kan., clay oval and, despite a late-race caution that bunched the field, cruised to his fifth USMTS win of the season and 35th of his career.

It also added some cushion to his points lead in the USMTS Hunt for the Casey's Cup powered by Summit, which he grabbed from Jake O'Neil after Thursday's show at the 81 Speedway. This year's USMTS national champion will earn a record $50,000 at season's end.




Behind Scott, Wichita's Tanner Mullens recorded his career-best United States Modified Touring Series main event finish with a second-place effort while Ramirez, O'Neil, Sanders and VanderBeek filled the next four spots at the checkered flag.

Lucas Schott came from 17th to finish seventh while Terry Phillips finished eighth after rolling off 19th on the grid-good enough to snag both the FK Rod Ends Hard Charger Award and Eibach Spring Forward honors. Cade Dillard and Adam Kates completed the top 10.

Next weekend, the time has finally arrived for the Modified Masters and the second crown jewel event of the USMTS campaign. The event takes place Thursday, Friday and Saturday, June 14-16, at the Cedar Lake Speedway in New Richmond, Wis., and will pay a whopping $40,000 to the main event winner on Saturday. Ryan Gustin is the defending Masters champion. Check out www.cedarlakespeedway.com for more details.

To learn more about the United States Modified Touring Series, visit www.usmts.com online or call 515-832-7944. You can also like us on Facebook at www.facebook.com/usmts, follow us on Twitter at www.twitter.com/usmts and Instagram at www.instagram.com/usmts or subscribe to our YouTube channel at www.youtube.com/usmtstv. Keep up to speed with everything USMTS by joining our email list at www.usmts.com/subscribe.

= = = = = = = = = = = = = = =

OFFICIAL RESULTS
United States Modified Touring Series
Summit USMTS Southern Series powered by Production Jars
USMTS Hunt for the Casey's Cup powered by Summit
Sunflower State Showdown - Round 3 of 3
Salina Speedway, Salina, Kan.
Saturday, June 9, 2018

Showing finishing position, starting position in parentheses, car number, driver, hometown, chassis/engine builder, laps completed and money won. The top 12 in heat race passing points advance to the Casey's General Stores "A" Main with the top 8 redrawing for the first 8 starting spots.

SIMPSON PERFORMANCE PRODUCTS HEAT RACE #1 (8 laps):
1. (3) 97 Cade Dillard, Robeline, La.
2. (9) 1st Johnny Scott, Cameron, Mo.
3. (8) 2s Stormy Scott, Las Cruces, N.M.
4. (5) 3j Jake Nightingale, Hutchinson, Kan.
5. (4) 5k Kyle Prauner (R), Norfolk, Neb.
6. (2) 52c Alex Cammon, Wichita, Kan.
7. (7) 25c Johnny Cammon, Wichita, Kan.
8. (6) 1m Cody Gearhart (R), Turpin, Okla.
9. (1) 54 Tim Clark, Great Bend, Kan.

FAST SHAFTS HEAT RACE #2 (8 laps):
1. (2) 33z Zack VanderBeek, New Sharon, Iowa.
2. (3) 0 Jake O'Neil (R), Tucson, Ariz.
3. (1) 91 Joe Duvall, Claremore, Okla.
4. (8) 02 Tanner Mullens, Wichita, Kan.
5. (7) 65 Tyler Davis, Haysville, Kan.
6. (4) 747 Corey Burch, Junction City, Kan.
7. (6) 53gt Tyler Sutton, Beloit, Kan.
8. (5) 75 Terry Phillips, Springfield, Mo.
DNS - 23 Logan Robertson, Shamrock, Texas.

EDELBROCK HEAT RACE #3 (8 laps):
1. (4) 24 Corey Lagroon, Salina, Kan.
2. (6) 4r Dereck Ramirez, Woodward, Okla.
3. (1) 23 Adam Kates, Tonganoxie, Kan.
4. (2) 20 Rodney Sanders, Worthington, Minn.
5. (3) 19r Ryan Gustin, Marshalltown, Iowa.
6. (5) 69 Lucas Schott, Chatfield, Minn.
7. (8) 8c Chris Clark, Jackson, Wyo.
8. (7) 20rt Ricky Thornton Jr., Chandler, Ariz.

REAL RACING WHEELS "B" MAIN (8 laps, all advance):
1. (2) 69 Lucas Schott, Chatfield, Minn.
2. (1) 747 Corey Burch, Junction City, Kan.
3. (7) 75 Terry Phillips, Springfield, Mo.
4. (4) 25c Johnny Cammon, Wichita, Kan.
5. (6) 1m Cody Gearhart (R), Turpin, Okla.
6. (3) 8c Chris Clark, Jackson, Wyo.
7. (5) 53gt Tyler Sutton, Beloit, Kan.
8. (8) 54 Tim Clark, Great Bend, Kan.
DNS - 20rt Ricky Thornton Jr., Chandler, Ariz.
DNS - 23 Logan Robertson, Shamrock, Texas.

CASEY'S GENERAL STORES "A" MAIN (40 laps):
1. (3) 1st Johnny Scott, Cameron, Mo., VanderBuilt/Durham, 40, $3000.
2. (6) 02 Tanner Mullens, Wichita, Kan., Hughes/Mullins, 40, $1500.
3. (2) 4r Dereck Ramirez, Woodward, Okla., Hughes/Cornett, 40, $1625.
4. (8) 0 Jake O'Neil (R), Tucson, Ariz., LG2/Cornett, 40, $1400.
5. (12) 20 Rodney Sanders, Worthington, Minn., MBCustoms/Hatfield, 40, $1195.
6. (1) 33z Zack VanderBeek, New Sharon, Iowa, VanderBuilt/Sput's, 40, $700.
7. (17) 69 Lucas Schott, Chatfield, Minn., MBCustoms/Hill, 40, $985.
8. (19) 75 Terry Phillips, Springfield, Mo., GRT/Durham, 40, $880.
9. (7) 97 Cade Dillard, Robeline, La., MBCustoms/Knowles, 40, $450.
10. (10) 23 Adam Kates, Tonganoxie, Kan., VanderBuilt/Speedway, 40, $475.
11. (13) 65 Tyler Davis, Haysville, Kan., Hughes/Hatfield, 40, $375.
12. (5) 2s Stormy Scott, Las Cruces, N.M., VanderBuilt/Mullins, 40, $725.
13. (20) 25c Johnny Cammon, Wichita, Kan., GRT/Mullins, 40, $275.
14. (11) 3J Jake Nightingale, Hutchinson, Kan., Mullens/Mullins, 39, $250.
15. (22) 8c Chris Clark, Jackson, Wyo., GRT/Cornett, 39, $300.
16. (14) 5k Kyle Prauner (R), Norfolk, Neb., Razor/ChevPerf, 37, $300.
17. (9) 91 Joe Duvall, Claremore, Okla., MBCustoms/ChevPerf, 33, $675.
18. (15) 19r Ryan Gustin, Marshalltown, Iowa, Hughes/TriStar, 32, $300.
19. (16) 52c Alex Cammon, Wichita, Kan., Custom/Cammon, 32, $250.
20. (23) 53gt Tyler Sutton, Beloit, Kan., BillsBuilt/PerfAuto, 23, $250.
21. (21) 1m Cody Gearhart (R), Turpin, Okla., LG2/ChevPerf, 15, $300.
22. (24) 54 Tim Clark, Great Bend, Kan., BMS/Clark, 11, $250.
23. (18) 747 Corey Burch, Junction City, Kan., GRT/ChevPerf, 9, $250.
24. (4) 24 Corey Lagroon, Salina, Kan., BillsBuilt/AEM, 8, $250.
DNS - 20rt Ricky Thornton Jr., Chandler, Ariz., Jet/Mullins, 0, $90.
DNS - 23 Logan Robertson, Shamrock, Texas, MBCustoms/Knowles, 0, $0.

(R) = Grant Junghans USMTS Rookie of the Year contender

Lap Leaders: VanderBeek 1-13, J. Scott 14-40.
Total Laps Led: J. Scott 27, VanderBeek 13.
Margin of Victory: 2.318 seconds.
Time of Race: 22 minutes, 34.861 seconds ( cautions).
Provisional Starters: none.
Eibach Spring Forward Award: Phillips (advanced 12 positions).
FK Rod Ends Hard Charger: Phillips (started 19th, finished 8th).
Entries: 26.
Next Race: Thursday-Saturday, June 14-16, Cedar Lake Speedway, New Richmond, Wis.
USMTS Hunt for the Casey's Cup Points: J. Scott 1562, O'Neil 1525, Sanders 1484, VanderBeek 1449, Ramirez 1425, Schott 1421, S. Scott 1417, Phillips 1361, Duvall 1104, Robertson 1032.
Grant Junghans USMTS Rookie of the Year Points: O'Neil 1525, Carlos Ahumada Jr. 760, Zane Ferrell 692, Billy Vogel 610, Lance Mari 529.
USMTS Engine Builder of the Year Points: Durham 168, Sput's 141, Cornett 136, Hatfield 126, Mullins 123.
USMTS Manufacturers Championship Points: VanderBuilt 188, MBCustoms 184, Hughes 138, GRT 134, LG2 132.

Contingency Awards:
American Racer - T. Clark, J. Scott.
Beyea Custom Headers - Duvall.
BSB Manufacturing - T. Clark.
Casey's General Stores - J. Cammon, VanderBeek.
Champ Pans - Sanders.
Deatherage Opticians - S. Scott.
E3 Spark Plugs - Ramirez.
Edelbrock - Lagroon.
Eibach - Phillips.
Fast Shafts - VanderBeek.
FK Rod Ends - Phillips.
Forty9 Designs - Nightingale, Sutton.
GRT Race Cars - Burch.
Hooker Harness - J. Cammon.
Integra Shocks & Springs - A. Cammon.
Jerovetz Motorsports Racing Parts - C. Clark.
Keyser Manufacturing - Kates.
KSE Racing Products - Dillard.
Maxima Racing Oils - J. Scott.
Out-Pace Racing Products - Prauner.
QA1 - Dillard.
RacerWebsite.com - J. Scott.
Simpson Performance Products - Dillard.
Swift Springs - J. Scott, Sutton.
Sybesma Graphics - VanderBeek.
Tire Demon - Davis.
VP Racing Fuels - J. Scott.
Wehrs Machine & Racing Products - trickmove.
Wilwood Disc Brakes - Schott.

= = = = = = = = = = = = = = =

USMTS OFFICIAL SPONSORS: Alpinestars, American Racer Racing Tires, Argo Manufacturing, Casey's General Stores, Chevrolet Performance, CP-Carrillo, Deatherage Opticians, Eibach Springs, Fast Shafts, Intercomp, Jerovetz Motorsports Racing Parts, KSE Racing Products, Leaf Racewear & Safety Equipment, Malvern Bank, Mesilla Valley Transportation, MSD Performance, Nitroquest Media, Pace Performance, RacinDirt.com, S&S Fishing & Rental, Summit Racing Equipment, VP Racing Fuels.

USMTS PARTICIPATING SPONSORS: Arizona Sport Shirts, ASi Racewear, Boubin Tire & Automotive, Brodix Cylinder Heads, Duvall Electric, Eagle Moon Farm, ElbowsUp.com, Evolution Powersports, Oreo Cookies, PBM Performance Products, Production Jars, Rancho Milagro Racing, River's Edge Scrap Management, Snickers, Spike Hardcore Energy, Top of the World Ranch, YouDirt.com.

USMTS CONTINGENCY SPONSORS: 905 Ink, AFCO Racing Products, Allstar Performance, Beyea Custom Headers, Brown & Miller Racing Solutions, BSB Manufacturing, Champ Pans, Edelbrock, FK Rod Ends, Forty9 Designs, Genesis Racing Shocks, GRT Race Cars, Holley Performance Products, Hooker Harness, Integra Shocks & Springs, Keyser Manufacturing, Maxima Racing Oils, Mr. Gasket, Out-Pace Racing Products, QA1, RacerWebsite.com, Real Racing Wheels, RHRSwag.com, Simpson Performance Products, Swift Springs, Sybesma Graphics, Tire Demon, Wehrs Machine & Race Products, Wilwood Disc Brakes.

##


Contact Info:

Jeff Nun

Communications Director

United States Modified Touring Series, Inc. (USMTS)

1715 W. 2nd St., P.O. Box 905

Webster City, IA 50595

Tel: 515-297-3835