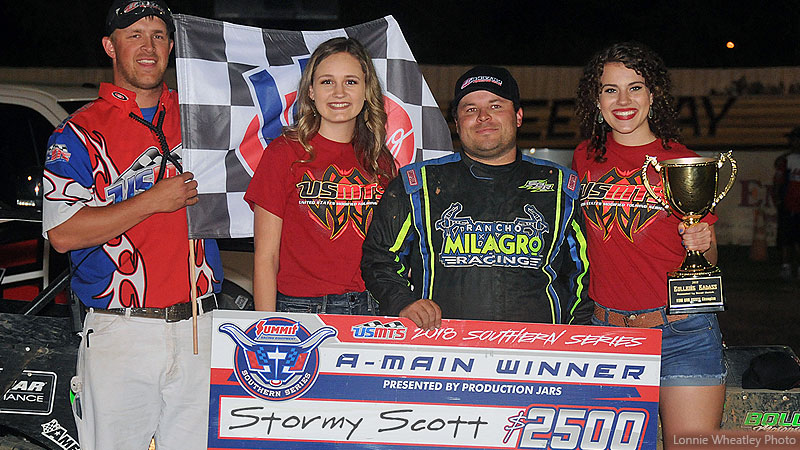 Stormy Scott seizes cash in USMTS Henryetta Ford Clash at The Creek


KELLYVILLE, Okla. (May 6)--Nobody knew what to expect the USMTS rolled into town for the first-ever event at the Creek County Speedway, but after the dust settled around 10 p.m. Sunday night it was clear that the bar was set pretty high for a possible second annual Henryetta Ford Clash at The Creek event in 2019.

As a successful electrician, columnist, former flat track motorcycle racer and current USMTS superstar, Joe Duvall has worn many hats, but this month he donned a promoter's derby and put together a show for folks in his formative stomping grounds in and around Tulsa, Okla.

With more than $7,000 in added sponsorship cash and prizes for the competitors-not to mention a couple good ol' fashioned trophy girls-the racers payed it forward with a wild caution-free main event that gave the huge crowd their money's worth.

Speaking of money, Stormy Scott was just that tonight. He tracked down early leader Lucas Schott late in the contest before making the winning pass with 12 laps to go and holding on to pocket more than $4,000 for his 47th career USMTS victory.

"I was concentrating more than anything," Scott said of the non-stop affair around the tight quarter-mile bullring. "It just seemed like once we got to lapped cars we never got out of them, so it made it pretty interesting. More than anything you had to be patient-super, super patient."

Patience paid off in a big way for the 28-year-old from Las Cruces, N.M., but there wasn't time to wait late in the race. In just a little over 30 seconds elapsed time during the final two laps, he had to maneuver his way around eight lapped cars while his brother, Johnny Scott, was trying to reel him in by flying around the high side.

"When I got by Lucas there I thought it was kind of a risk to move up there, but I thought I might as well try it because if I don't somebody behind me is going to try it. Luckily, it worked out."

To be exact, the winner's payout was $4,050 while Schott, who slipped to fifth by the end of the race, collected $3,690 which included $2,900 in lap leader bonus money.




Johnny Scott followed his brother to the checkered flag while seventh-starting Jake O'Neil and Rodney Sanders wound up third and fourth, respectively. Tyler Wolff, Terry Phillips, Dereck Ramirez, Duvall and Zack VanderBeek rounded out the top ten.

By passing the most cars in the feature, Ramirez picked up $100 as the FK Rod Ends Hard Charger Award winner and an extra $500 courtesy of Bergman Tax & Accounting.

Other special award winners on the night included Duvall, who garnered $100 from CAM Chassis as the highest finishing Chevrolet Performance crate engine. VanderBeek netted a new carbon fiber driveshaft courtesy of Fast Shafts, Darron Fuqua took home four new springs from Swift Springs and Muskogee Powdercoat awarded a $500 credit to Randy Timms, Chad Davis, William Gould, Lance Town, Zane Ferrell and Logan Robertson.

Schott earned a $100 credit from five1seven Designs plus a 3' x 4' custom drivers mat from Bulletproof Tees as the leader on lap 27. Schoenfeld Headers provided a $100 credit off a new set of Tri-Y headers to Nathan Hagar, Michael Ables and Matt French got $50 certificates courtesy of Wehrs Machine & Racing Products and all competitors in both the USMTS and Lucas Oil NOW600 micros get a $50 discount from RacerWebsite.com.

In addition, $50 certificates were awarded to all non-qualifiers courtesy of Velocita-USA, $50 certificates went to six mystery positions in the Real Racing Wheels "B" Mains courtesy of Speedway Motors, awards for mystery non-transfer positions were doled out by Brassmonkey Racing Products and all Real Racing Wheels "B" Main winners took home a case of Spike Energy.

Main event lap sponsors included Lisa Tiernan Photography, Maxwell Oil, Chris Ross Racing, Danny Martin Trucking, Cary McKaughan Snap-On Tools, All American Forklift, TempleofZoom.net, Team Eights, RacinDirt.com, Brassmonkey Racing Products, PeterbiltSteve.com, York Street Tire, Same Day Tire and Auto, Jaime Torres Racing, CRD Construction, Ted Holt Sr., Ted Holt Jr., Adam Kates Racing, Harley Hollan Companies, Driven Midwest, Arkansas Myriad, H.O. "Dizzy" Dean Racing and Mike's Flagpole Service.

Competitors also received contingency awards from American Racer, Beyea Custom Headers, BSB Manufacturing, Champ Pans, Deatherage Opticians, E3 Spark Plugs, Edelbrock, Eibach, Fast Shafts, FK Rod Ends, Forty9 Designs, GRT Race Cars, Hooker Harness, Integra Shocks & Springs, Jerovetz Motorsports Racing Parts, Keyser Manufacturing, KSE Racing Products, Maxima Racing Oils, Out-Pace Racing Products, QA1, RacerWebsite.com, Real Racing Wheels, Simpson Performance Products, Swift Springs, Sybesma Graphics, Tire Demon, VP Racing Fuels, Wehrs Machine & Racing Products and Wilwood Disc Brakes.

After a week off, the USMTS Hunt for the Casey's Cup powered by Summit continues May 18-20 with a tripleheader in Minnesota and Northern Iowa.

On Friday, the I-94 Speedway in Fergus Falls, Minn., hosts the 4th Annual Casey's General Stores Summersota Nationals, and then it's on to the Ogilvie Raceway in Ogilvie, Minn., on Saturday for the 7th Annual Chubbs Performance Modified Madness presented by U.S. Army.

The weekend wraps up with a return to the Mason City Motor Speedway in Mason City, Iowa, for the 7th Annual Diamond Jo Casino "All-In 77" on Sunday.

To learn more about the United States Modified Touring Series, visit www.usmts.com online or call 515-832-7944. You can also like us on Facebook at www.facebook.com/usmts, follow us on Twitter at www.twitter.com/usmts and Instagram at www.instagram.com/usmts or subscribe to our YouTube channel at www.youtube.com/usmtstv. Keep up to speed with everything USMTS by joining our email list at www.usmts.com/subscribe.

= = = = = = = = = = = = = = =

OFFICIAL RESULTS
United States Modified Touring Series
Summit USMTS Southern Series powered by Production Jars
USMTS Hunt for the Casey's Cup powered by Summit
Henryetta Ford Clash at The Creek
Creek County Speedway, Kellyville, Okla.
Sunday, May 6, 2018

Showing finishing position, starting position in parentheses, car number, driver, hometown, chassis/engine builder, laps completed and money won. The top 12 in heat race passing points advance to the Summit Racing Equipment "A" Main with the top 8 redrawing for the first 8 starting spots.

SIMPSON PERFORMANCE PRODUCTS HEAT RACE #1 (8 laps):
1. (2) 91 Joe Duvall, Claremore, Okla.
2. (5) 4w Tyler Wolff, Fayetteville, Ark.
3. (1) 55 Nathan Hagar (R), Adair, Okla.
4. (6) 33z Zack VanderBeek, New Sharon, Iowa.
5. (8) 21t Lance Town, Wellsville, Kan.
6. (3) 532 Brett Wilson, Coweta, Okla.
7. (7) 41 Daniel Abrams, Sapulpa, Okla.
8. (4) 64 Chris Miles, Bristow, Okla.
9. (9) 23 Adam Kates, Tonganoxie, Kan.

FAST SHAFTS HEAT RACE #2 (8 laps):
1. (2) 0 Jake O'Neil (R), Tucson, Ariz.
2. (6) 2s Stormy Scott, Las Cruces, N.M.
3. (1) 77 Kendall Schultz, Broken Arrow, Okla.
4. (4) 12b Johnny Bone Jr., Pea Ridge, Ark.
5. (7) 99 Matt French, Tulsa, Okla.
6. (5) 1t Ryan Taylor, Muldrow, Okla.
7. (3) 10mf Anthony Neel, Coweta, Okla.
8. (8) 29h Brandon Hacker, Sperry, Okla.

EDELBROCK HEAT RACE #3 (8 laps):
1. (3) 69 Lucas Schott, Chatfield, Minn.
2. (6) 20 Rodney Sanders, Worthington, Minn.
3. (4) 24z Zane Ferrell (R), Hermitage, Ark.
4. (2) 4r Dereck Ramirez, Woodward, Okla.
5. (5) 75 Kyle Ledford, Greenwood, Ark.
6. (7) 9d Kyle Davis, Siloam Springs, Ark.
7. (1) 24 Justin Cartwright, Sperry, Okla.
8. (8) 8c Chris Clark, Jackson, Wyo.

MSD PERFORMANCE HEAT RACE #4 (8 laps):
1. (2) 88 Chad Wheeler, Muskogee, Okla.
2. (1) 15 Randy Timms, Wheatland, Okla.
3. (8) 75 Terry Phillips, Springfield, Mo.
4. (4) 52 Chad Davis, Tulsa, Okla.
5. (3) 29 Jon-Paul Larison, Sapulpa, Okla.
6. (6) 87 Darron Fuqua, Mayetta, Kan.
7. (7) 23 Logan Robertson, Shamrock, Texas.
8. (5) 30 Joel Hill, Tulsa, Okla.

VP RACING FUELS HEAT RACE #5 (8 laps):
1. (1) 1st Johnny Scott, Cameron, Mo.
2. (2) 60 William Gould, Calera, Okla.
3. (3) 49jr Jake Timm, Minnesota City, Minn.
4. (4) 61 Michael Ables, Caddo, Okla.
5. (5) 20e James Esmond, Sapulpa, Okla.
6. (8) 39 Ho Dean, Tulsa, Okla.
7. (7) 1 Collin Wiseley, Bixby, Okla.
8. (6) 17 Brandon Dean, Sapulpa, Okla.

REAL RACING WHEELS "B" MAIN #1 (15 laps, top 4 advance):
1. (2) 49jr Jake Timm, Minnesota City, Minn.
2. (4) 4r Dereck Ramirez, Woodward, Okla.
3. (3) 21t Lance Town, Wellsville, Kan.
4. (1) 55 Nathan Hagar (R), Adair, Okla.
5. (5) 61 Michael Ables, Caddo, Okla., B&B/PerfAuto, $75.
6. (7) 20e James Esmond, Sapulpa, Okla., Xtreme/DSO, $75.
7. (12) 1 Collin Wiseley, Bixby, Okla., GRT/Wiseley, $75.
8. (11) 24 Justin Cartwright, Sperry, Okla., Hughes/USave, $75.
9. (10) 41 Daniel Abrams, Sapulpa, Okla., Mach1/Club 121, $75.
10. (14) 30 Joel Hill, Tulsa, Okla., RaceCraft/BMS, $75.
11. (6) 75 Kyle Ledford, Greenwood, Ark., Extreme/C&C, $75.
12. (9) 1t Ryan Taylor, Muldrow, Okla., Extreme/C&C, $75.
13. (8) 9d Kyle Davis, Siloam Springs, Ark., TRE/Parker, $75.
14. (13) 29h Brandon Hacker, Sperry, Okla., Jet/HMS, $75.
15. (15) 23 Adam Kates, Tonganoxie, Kan.

REAL RACING WHEELS "B" MAIN #2 (15 laps, top 4 advance):
1. (2) 33z Zack VanderBeek, New Sharon, Iowa.
2. (3) 12b Johnny Bone Jr., Pea Ridge, Ark.
3. (4) 52 Chad Davis, Tulsa, Okla.
4. (9) 87 Darron Fuqua, Mayetta, Kan.
5. (5) 99 Matt French, Tulsa, Okla., RaceCraft/French, $75.
6. (11) 23 Logan Robertson, Shamrock, Texas.
7. (7) 39 Ho Dean, Tulsa, Okla., Skyrocket/Warrior, $75.
8. (8) 532 Brett Wilson, Coweta, Okla., TRE/Club 121, $75.
9. (12) 64 Chris Miles, Bristow, Okla., D&M/Miles, $75.
10. (1) 77 Kendall Schultz, Broken Arrow, Okla., DirtWorks/Bob's, $75.
11. (14) 17 Brandon Dean, Sapulpa, Okla., Skyrocket/Warrior, $75.
12. (13) 8c Chris Clark, Jackson, Wyo.
13. (6) 29 Jon-Paul Larison, Sapulpa, Okla., DirtWorks/HighTech, $75.
14. (10) 10mf Anthony Neel, Coweta, Okla., Hoffman/BMS, $75

CASEY'S GENERAL STORES "A" MAIN (40 laps):
1. (2) 2s Stormy Scott, Las Cruces, N.M., VanderBuilt/Mullins, 40, $4050.
2. (6) 1st Johnny Scott, Cameron, Mo., VanderBuilt/Durham, 40, $1825.
3. (7) 0 Jake O'Neil (R), Tucson, Ariz., LG2/Cornett, 40, $1300.
4. (4) 20 Rodney Sanders, Worthington, Minn., MBCustoms/Hatfield, 40, $995.
5. (1) 69 Lucas Schott, Chatfield, Minn., MBCustoms/Hill, 40, $3690.
6. (3) 4w Tyler Wolff, Fayetteville, Ark., MBCustoms/Hatfield, 40, $500.
7. (9) 75 Terry Phillips, Springfield, Mo., GRT/Durham, 40, $735.
8. (15) 4r Dereck Ramirez, Woodward, Okla., Hughes/Cornett, 40, $1180.
9. (5) 91 Joe Duvall, Claremore, Okla., MBCustoms/ChevPerf, 40, $750.
10. (14) 33z Zack VanderBeek, New Sharon, Iowa, VanderBuilt/Sput's, 40, $625.
11. (8) 88 Chad Wheeler, Muskogee, Okla., MBCustoms/Durham, 40, $325.
12. (10) 15 Randy Timms, Wheatland, Okla., WesternFlyer/PerfAuto, 40, $200.
13. (18) 52 Chad Davis, Tulsa, Okla., RaceCraft/BMS, 40, $200.
14. (11) 60 William Gould, Calera, Okla., GRC/BMS, 39, $200.
15. (20) 87 Darron Fuqua, Mayetta, Kan., MBCustoms/Driskell, 39, $250.
16. (13) 49jr Jake Timm, Minnesota City, Minn., MBCustoms/Sput's, 39, $525.
17. (17) 21t Lance Town, Wellsville, Kan., MBCustoms/Driskell, 39, $250.
18. (12) 24z Zane Ferrell (R), Hermitage, Ark., MBCustoms/ASI, 39, $250.
19. (21) 23 Logan Robertson, Shamrock, Texas, MBCustoms/Knowles, 38, $450.
20. (19) 55 Nathan Hagar (R), Adair, Okla., Shaw/Rev's, 38, $250.
21. (22) 8c Chris Clark, Jackson, Wyo., GRT/Cornett, 37, $250.
22. (16) 12b Johnny Bone Jr., Pea Ridge, Ark., Shaw/Yeoman, 19, $250.

(R) = Grant Junghans USMTS Rookie of the Year contender

Lap Leaders: Schott 1-28, S. Scott 29-40.
Total Laps Led: Schott 28, S. Scott 12.
Margin of Victory: 1.456 seconds.
Time of Race: 10 minutes, 51.413 seconds (no cautions).
Provisional Starters: Robertson, Kates, Clark.
Eibach Spring Forward Award: Fuqua (advanced 10 positions).
FK Rod Ends Hard Charger: Ramirez (started 15th, finished 8th).
Entries: 41.
Next Race: Friday, May 18, I-94 Speedway, Fergus Falls, Minn.
USMTS Hunt for the Casey's Cup Points: O'Neil 1134, J. Scott 1071, S. Scott 1033, Sanders 1033, Schott 1024, Ramirez 1022, VanderBeek 1002, Phillips 987, Timm 842, Duvall 829.
Summit USMTS Southern Series Points: J. Scott 1110, Sanders 1034, S. Scott 982, Ramirez 979, Duvall 897, VanderBeek 821, Schott 811, Robertson 780, Ferrell 687, Cade Dillard 643.
Grant Junghans USMTS Rookie of the Year Points: O'Neil 1134, Carlos Ahumada Jr. 760, Ferrell 692, Billy Vogel 610, Lance Mari 529.
USMTS Engine Builder of the Year Points: Durham 122, Cornett 110, Sput's 103, Mullins 88, Hatfield 88.
USMTS Manufacturers Championship Points: VanderBuilt 141, MBCustoms 138, GRT 104, Hughes 101, LG2 99.

Contingency Awards:
American Racer - Fuqua.
Beyea Custom Headers - Hagar.
BSB Manufacturing - Clark.
Champ Pans - Schott.
Deatherage Opticians - Ledford.
E3 Spark Plugs - O'Neil.
Edelbrock - Schott.
Eibach - Fuqua.
Fast Shafts - O'Neil.
FK Rod Ends - Ramirez.
Forty9 Designs - Gould, Robertson.
GRT Race Cars - Wiseley.
Hooker Harness - C. Davis.
Integra Shocks & Springs - Ferrell.
Jerovetz Motorsports Racing Parts - Fuqua.
Keyser Manufacturing - VanderBeek.
KSE Racing Products - Robertson.
Maxima Racing Oils - S. Scott.
Out-Pace Racing Products - Timm.
QA1 - Taylor.
RacerWebsite.com - Kates.
Real Racing Wheels - all non-qualifiers.
Simpson Performance Products - Duvall.
Swift Springs - S. Scott, C. Davis.
Sybesma Graphics - Schott.
Tire Demon - Wheeler.
VP Racing Fuels - S. Scott.
Wehrs Machine & Racing Products - Duvall.
Wilwood Disc Brakes - Phillips.

= = = = = = = = = = = = = = =

USMTS OFFICIAL SPONSORS: Alpinestars, American Racer Racing Tires, Argo Manufacturing, Casey's General Stores, Chevrolet Performance, CP-Carrillo, Deatherage Opticians, Eibach Springs, Fast Shafts, Intercomp, Jerovetz Motorsports Racing Parts, KSE Racing Products, Leaf Racewear & Safety Equipment, Malvern Bank, Mesilla Valley Transportation, MSD Performance, Nitroquest Media, Pace Performance, RacinDirt.com, S&S Fishing & Rental, Summit Racing Equipment, VP Racing Fuels.

USMTS PARTICIPATING SPONSORS: Arizona Sport Shirts, ASi Racewear, Boubin Tire & Automotive, Brodix Cylinder Heads, Duvall Electric, Eagle Moon Farm, ElbowsUp.com, Evolution Powersports, Oreo Cookies, PBM Performance Products, Production Jars, Rancho Milagro Racing, River's Edge Scrap Management, Snickers, Spike Hardcore Energy, Top of the World Ranch, YouDirt.com.

USMTS CONTINGENCY SPONSORS: 905 Ink, AFCO Racing Products, Allstar Performance, Beyea Custom Headers, Brown & Miller Racing Solutions, BSB Manufacturing, Champ Pans, Edelbrock, FK Rod Ends, Forty9 Designs, Genesis Racing Shocks, GRT Race Cars, Holley Performance Products, Hooker Harness, Integra Shocks & Springs, Keyser Manufacturing, Maxima Racing Oils, Mr. Gasket, Out-Pace Racing Products, QA1, RacerWebsite.com, Real Racing Wheels, RHRSwag.com, Simpson Performance Products, Swift Springs, Sybesma Graphics, Tire Demon, Wehrs Machine & Race Products, Wilwood Disc Brakes.

##


Contact Info:

Jeff Nun

Communications Director

United States Modified Touring Series, Inc. (USMTS)

1715 W. 2nd St., P.O. Box 905

Webster City, IA 50595

Tel: 515-297-3835